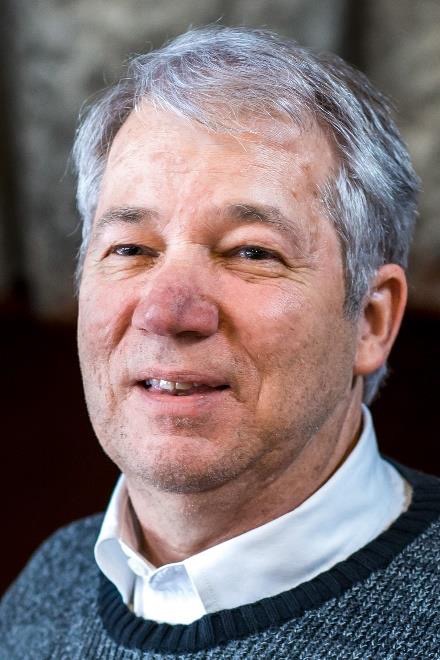 Rev. Michael (Mike) Krewson
Senior Pastor
Rev. Mike Krewson is a husband, father, and grandfather. His previous callings have led him to varied settings. He has served at rural, small town, and suburban churches.
He is a graduate of Hazelwood High School. After receiving a Bachelor Degree in Psychology at UMSL, Mike, as he prefers to be called, went on to Eden Seminary to obtain a Master of Divinity Degree. He was ordained by the United Church of Christ in 1984.
Mike enjoyed serving in all the different churches, learning that all have their own special advantages and spiritual gifts.
Mike says he was blessed with the opportunity to lead each church. The churches were blessed as well as Michael Krewson spent many years at each one.
Mike is excited about serving St. Philip's for many reasons such as our UCC background and ministry to the community with ECC and Logos.
Mike is married to Mary Ann Krewson, a registered nurse. They have four children and four grandchildren. They all live near each other in the Edwardsville, Illinois, area where they have lived since 1999.
When away from church, Mike likes camping and robotics. He not only builds robots but programs them as well. He has judged them in competition and monitored them in the FIRST Robotics High School program.
Beliefs and Mission
"I believe that Jesus' people minister by increasing the love of God and neighbor. Because we've been loved by God, our lives are turned around and we have a passion to love God's world. Christians seek to follow Jesus. That is ministry. When we do it together we are The Church."
"I believe God calls the church to serve as that first church did and I feel called to help that happen. I have been blessed with the opportunity to lead 5 congregations through my years and in each church we worked together at the five Acts 2:42-47 activities: spiritual growth, meeting social needs, worship, service, and outreach. I have found that while growing as an organization is important (programs, committees, buildings, administrative structure), a strong focus on helping people grow spiritually, socially, and individually provides the best foundation for spiritual health."
"A sincere interest in the well-being of all people energizes me to take a firm stand when necessary while remaining open to the perspective of others. I am proud of the United Church of Christ's strong stand affirming ALL people. That stand has been formative for me and is a good fit for my life's work. Because I care, I am a good listener, caring counselor, and tenacious leader. My ability to empathize with diverse people allows me to relate well with children and adults, and to bring out the best in them. I deliver insightful, articulate and meaningful sermons that are inspiring and practical while being firmly based on the Bible (in its historical context) and the United Church of Christ Theological stance."
"The mission of the church is to help members find and develop their God given purpose. I am passionate about and able to participate in leadership fostering ministry! As a Christian I am called to be a lover of God. As a leader I am called to equip others to do the same. I like this work. I am also a husband, father and grandfather. I intend to do well in those roles too. I believe in disciplined prayer life, scripture reading and support group participation. God's work is done in many ways. I highly value the broad partnership Christianity calls for and look forward to the future with joyful anticipation."
Feel free to call Pastor Mike anytime:
Pastor Mike's Office Hours
Wednesday and Thursday, 10:00 a.m. to 2:00 p.m., by appointment